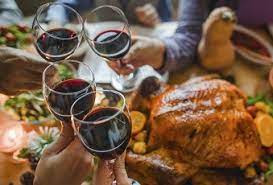 We are open this weekend and we will be open Friday, Saturday & Sunday of Thanksgiving Weekend! Cut down your Christmas tree and come visit us for some wine tasting and amazing holiday specials! Sounds like the perfect Santa Cruz Mountain weekend activity. Thank you for supporting small and local business 🙂
Also book your private holiday party now as space is filling up! Any day of the week and anytime of day, we can provide the perfect setting for your gathering. Email kyle@burrellschool.com with your inquiries.
Holiday 3 Pack@ $69:
Couple of Cabs for $79:
Pair of Pinots for $79:
Barrel Reserve 3 Pack@ $129:
Thanksgiving Weekend, exclusively for Sippers Club members, we'll be having our Cellar Alumni Event from 1-5pm. Dave is preparing a special selection of cellar wines for sipping and purchasing at great discounts! Perfect for holidays gifts and celebrations. Watch your in-box for further details and ordering options if you can't join us at the tasting room.
Music Corner:
Music with Yoshi on Nov. 20th & Nov. 27th
A former Silicon Valley technologist Yoshi Senzaki's passion for playing the traditional Chicago Blues spans more than three decades. Born in Osaka, he grew up influenced in his younger days by the big blues boom that took place in Japan in the 1970's. After moving to the U.S. from Japan in 1987, he has been based in Minneapolis, Los Angeles, San Francisco, Chicago, and recently back to SF South Bay, where he continues playing the blues.
Remember, find all our wines on our webstore & use coupon code SHIP75 for free shipping on orders over $75!
We are happy to package up and ship out gifts for you!
Happy Holiday Sipping ~ The Burrell School Family